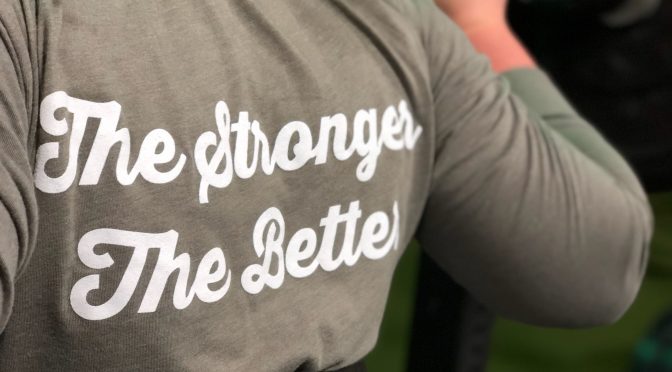 [eliteaccordion][elitetoggle title="Whats going on this week!"]
Save the Date! June 30th is CrossFit South Bend's 9 year anniversary party! Click here for more details
Our CFSB Garage sale has been launched! Click here for the details
Ever checked out our YouTube channel? You should! We have a ton of helpful (and also some ridiculous) videos! Click here to subscribe when we get a new video up
We are closed Saturday for a YPN Event! click here to learn more
Jorts Day July 4th! Wear your best Jean Shorts
Bring A Friend Day July 21st! More details to come
[/elitetoggle][/eliteaccordion]
[eliteaccordion][elitetoggle title="Monday 6.11″]
FIT
A. Vertical Push + Pull
E90s
12-15 Strict Barbell Press from Floor
12-15 Strict Pull Ups/Ring Rows
x 6 sets (18 min)
*build for 2 sets, 4 sets difficult
B. Alactic + Aerobic
40s 10 American KB Swings, heavy – Max No Push Up Burpees in time remaining
40s Singles
rest 120s
x 4 Sets (13:20 min)
COMP
A. Vertical Push + Pull
E90s
9-12 L-seated DB Presses
9-12 Strict Pull Ups
x 6 sets (18 min)
*build for 2 sets, 4 sets difficult
B. Alactic + Aerobic
40s to perform 5 DB Hang Clean and Jerks, heavy + Max Burpees in time remaining
40s Double Unders
rest 120s
x 4 Sets (13:20 min)
Score: A, weights used B, weight used + total reps
[/elitetoggle][/eliteaccordion]
[eliteaccordion][elitetoggle title="Tuesday 6.12″]
FIT
A. Skill
10-15 minutes on Snatch Skill Work
B. Speed Strength
E90s
Odd Rounds: Overhead Squat x 8
Even Rounds: Snatch RDL x 8
x 5 Sets (15 min)
*build, use the same weight for both movements
C.
For time
20 Cal Row
20 Ball Slams
20 Cal Bike
20 Russian Kettlebell Swings
200m Run
20 Kettlebell Squats
9 minute cap
COMP
A. Skill
10-15 minutes on Snatch Skill Work
B. Speed Strength
E90s
Power Snatch + Hang Snatch + Overhead Squat
(1+1+1)
x 10 Sets (15 min)
*build
C.
For time
20 Cal Row
20 Ball Slams
20 Cal Bike
20 Russian Kettlebell Swings
200m Run
20 Kettlebell Squats
9 minute cap
Score: A, weight. B, total reps or time.
[/elitetoggle][/eliteaccordion]
[eliteaccordion][elitetoggle title="Wednesday 6.13″]
FIT & COMP
A. Horizontal Push + Pull
E90s
9-12 Bench Press
9-12 Dual DB Bent Over Row
x 6 sets (18 min)
*build for 2 sets, 4 sets difficult
B. Accessory
10 minutes of Turkish Get Ups
Score: A, weight. B, weight and reps.
[/elitetoggle][/eliteaccordion]
[eliteaccordion][elitetoggle title="Thursday 6.14″]
FIT
A. Skill
10-15 minutes of Clean and Jerk Skill Work
B. Speed Strength
E90s
Odd Rounds: Front Squat x 8
Even Rounds: Push Press x 8
x 5 Sets (15 min)
*build, use the same weight for both movements
C. CP
10 Minute Amrap
10 Thrusters, moderate weight
Run 200m
COMP
A. Skill
10-15 minutes on Clean and Jerk Skill Work
B. Speed Strength
E90s
Power Clean + Hang Clean + Shoulder to Overhead
(1+1+1)
x 10 Sets (15 min)
*build
C. CP
10 Minute Amrap
10 Clean and Jerks, moderate weight
Run 200m
Score: A, weight. B, weight and rounds +reps
[/elitetoggle][/eliteaccordion]
[eliteaccordion][elitetoggle title="Friday 6.15″]
FIT & COMP
A. Aerobic
30 Minute Amrap
15 American KBS
400m Run
30 Double Unders
B. Accessory
60s Bicep Curls
60s Incline Push Ups
x 5 Sets (10 min)
Score: A, rounds + reps
[/elitetoggle][/eliteaccordion]
[eliteaccordion][elitetoggle title="Saturday 6.16″]
FIT & COMP
A. Pace
40s Cal Bike
30s Rest
40s Burpees
30s Rest
40s Cal Row
30s Rest
40s Alternating DB/KB Snatch
30s Rest
x 7 sets
Score: Each modality separate in total reps
[/elitetoggle][/eliteaccordion]
[eliteaccordion][elitetoggle title="Sunday 6.17″]
FIT & COMP
Fathers Day Flow
45 Minute Amrap
Bike 90s
2 Dead Hang To Inverted / 10 Scap Pulls
4 TGU
8 GHD Sit Ups / 12 Sit Ups
Row 90s
15 Hollow Rocks
5 Inchworms
One HS Walk attempt up to 40ft / Hips above shoulders bear crawl
[/elitetoggle][/eliteaccordion]