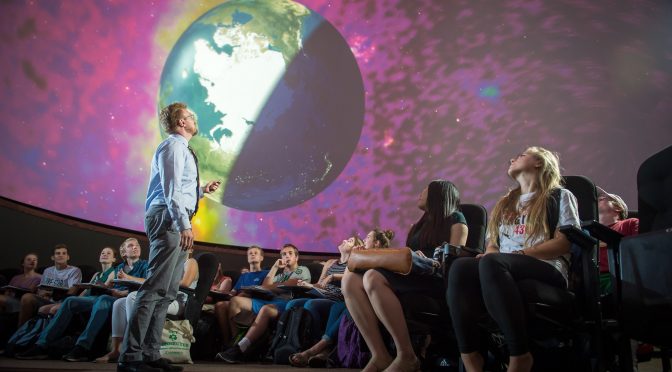 DVT TRIP!
Keith Davis
is going to give a DVT Presentation for all of us!
This is free and is for anyone of any age to come out and enjoy
The Digital Visualization Theater (or DVT) is an entirely digital planetarium.  As a planetarium it can provide all the traditional demonstrations of the night sky as seen with the naked eye from Earth.  As a digital planetarium it includes a three dimensional model of the universe as astronomers know it, and can take the audience on a personal tour through the universe.  This virtual universe is projected above the audience on a 50-foot diameter hemispherical dome for an immersive experience.  At 3:00 PM On Saturday December 16th, Keith Davis will offer a live tour of the universe, starting with a demonstration of the night sky from earth, flying by a few planets of the audience's choice, showing the orbit if the newly discovered comet ISON and flying to the edge of the universe.  Keith live narrate the presentation, customizing it to the audience's questions, and will happily answer questions at the end of the presentation.
Location:  The DVT is attached to the North side of Jordan Hall of Science on Notre Dame Campus (see map)
Parking: On Saturday, there aren't any events listed on the University Calendar, so you shouldn't have any trouble parking.  The closest spot is in the library parking lot (labeled B2 Library Lot), or the ROTC (in gray on the map, labeled B2) building parking lot right next to Jordan.  If for some reason those are gated or full, you can park by the stadium and walk north to the building.